Dansville Middle School
Welcome
Dansville Middle School's goal is students leave empowered to stay intellectually engaged, instilled with behaviors in keeping with responsible citizenship, and the initiative necessary to become the best person they can. We believe the best learning environment is one that is clean, safe, healthy, and student friendly. The strength of our program is the experience, expertise, and dedication of our staff who are committed to providing learning opportunities that are developmentally appropriate and academically challenging. We strive to meet the emotional, social, and academic needs of all our students.
If you want additional information or if you would like a personal tour of Dansville Middle School, please contact us.
January 26, 2023
Board of Education Meeting
Board of Education Meeting
Monday, February 27, 2023
6:00 PM
January 20, 2023
Dansville High School Receives $5,000 Grant!
Dansville High School is one of 10 schools in Michigan to receive part of a $50,000 grant from the Michigan College Access Network.

Each school is set to receive a $5,000 grant, which is the first stage of the High School Innovation Grants program.

Recipients will use the funds over the next four to six months to assess the school's current systems and practices, as well as determine challenge areas and develop an action plan.
January 18, 2023
Kindergarten Round-up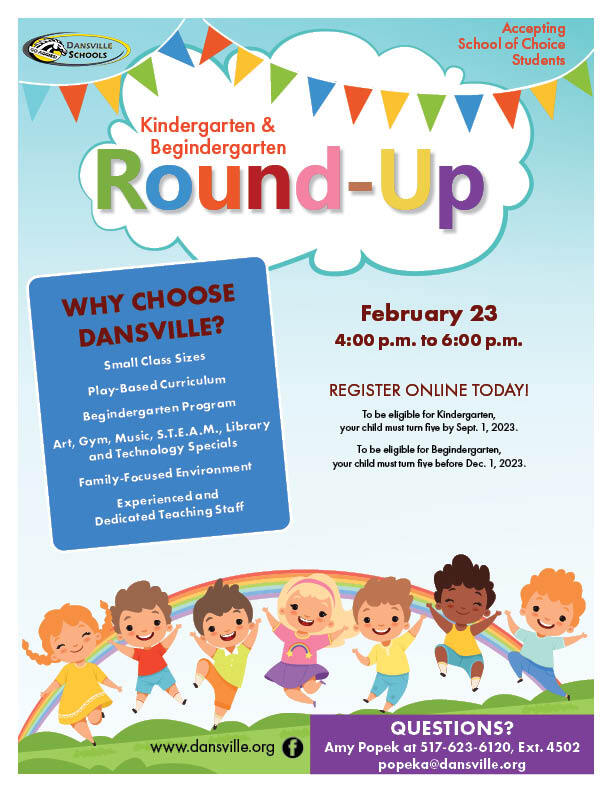 Half Day PD Students only

Calendar:

District Calendar

NO SCHOOL

Calendar:

District Calendar

Half Day PD Students only

Calendar:

District Calendar

Parent Teacher Conferences (K-12)

Calendar:

District Calendar

Parent Teacher Conferences (K-12)

Calendar:

District Calendar

Half Day PD Students only

Calendar:

District Calendar

Half Day PD Students & Staff

Calendar:

District Calendar

NO SCHOOL

Calendar:

District Calendar

NO SCHOOL

Calendar:

District Calendar

NO SCHOOL

Calendar:

District Calendar