District News & Events
October 11, 2018
Construction Update Oct. 11, 2018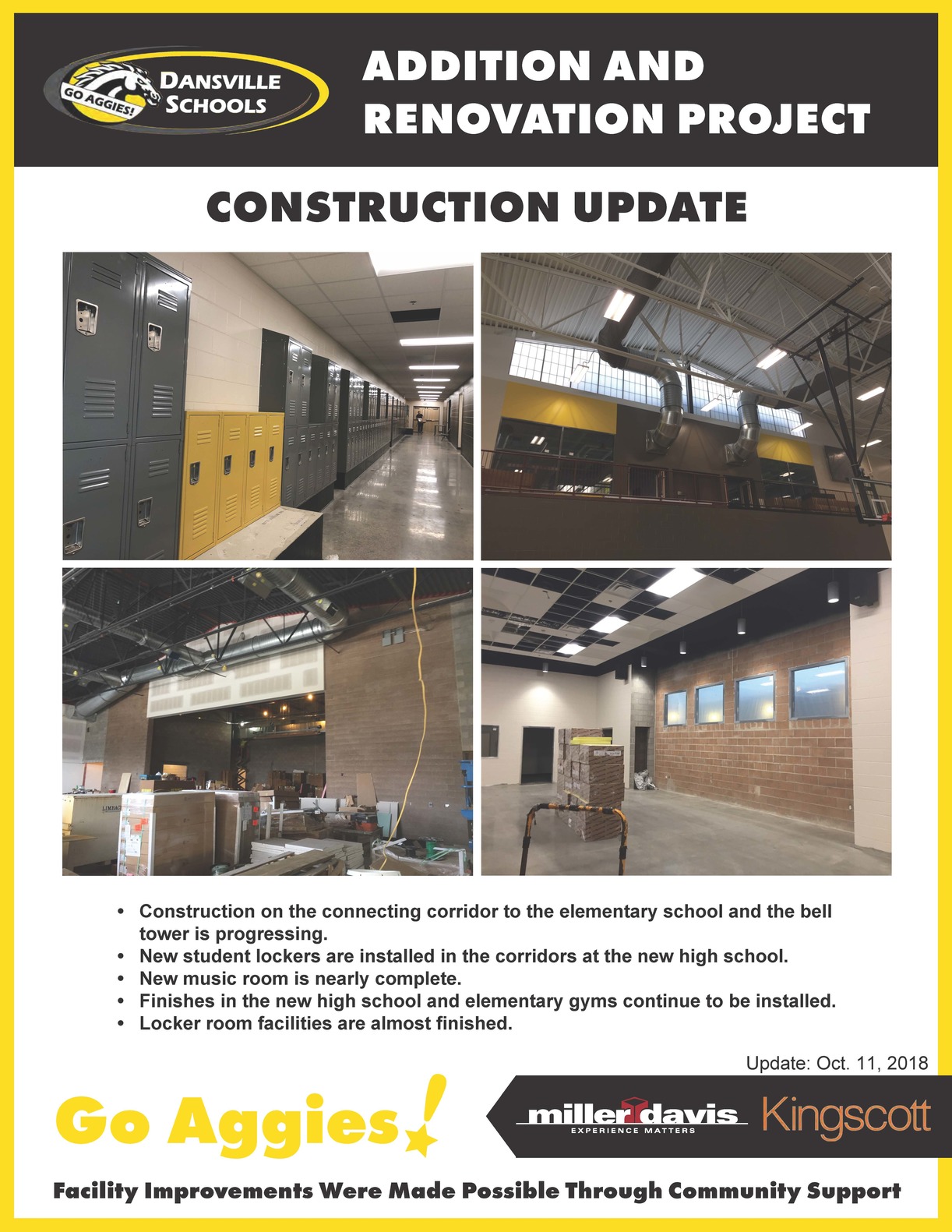 September 10, 2018
Academic ER
Academic ER is an after-school tutoring program that brings together students, teachers and parents to ensure academic success. Students may use this time to get help, work on homework or retake assessments. Students may drop-in when needed or sign-up to attend on a regular basis. Sessions are on Tuesday and Thursday each week from 3:00 to 4:00 PM in Mr. Hubinger's classroom.
Busing is available on Tuesday and Thursday for in-district students who qualify, based upon academic and demographic criteria as outlined by federal guidelines.
If you would like your student to attend or to discuss eligibility for busing, please contact Mr. Hubinger. hubingerm@dansville.org.
September 10, 2018
Tim Bolles Appointed to School Board
Longtime Aggie board member Jeff Graf recently resigned from his board position due to taking on his new role as Dansville's varsity football coach. We are very appreciative of the time Jeff served on the board, but also appreciate his willingness to step into his new adventure with our football program! The Board interviewed and then appointed another very involved community member to fill the rest of Jeff's term, which ends December 31, 2018. We are pleased to share that Mr. Tim Bolles was appointed to fill the remainder of Jeff's board seat. Tim has coached a number of sports for many years for DCAA, as well coaching middle school basketball teams for the past few years, has chaperoned 5th grade camp, has attended the DC trip and has served on our District Parent Advisory Committee for the past three years. Tim brings a wealth of experiences to the board from his position with the State of Michigan where he serves as the Director of the Logistics and Operations Support Division for the Department of Technology Management and Budget. He is married to Robbin Bolles and they have three children who attend Dansville Schools, Elena, Manny and Miguel Fajardo. Tim is running for the vacant board seat in the upcoming November election. Board members hold six year terms when they are elected and elections are held every two years in November.
September 2, 2018
Dansville Schools Opens Year with New Facilities and Programs

Dansville Schools Opens Year with New Facilities and Programs
August 20, 2018
Back To School Newsletter
Watch your mailbox for the 2018 Back to School Newsletter!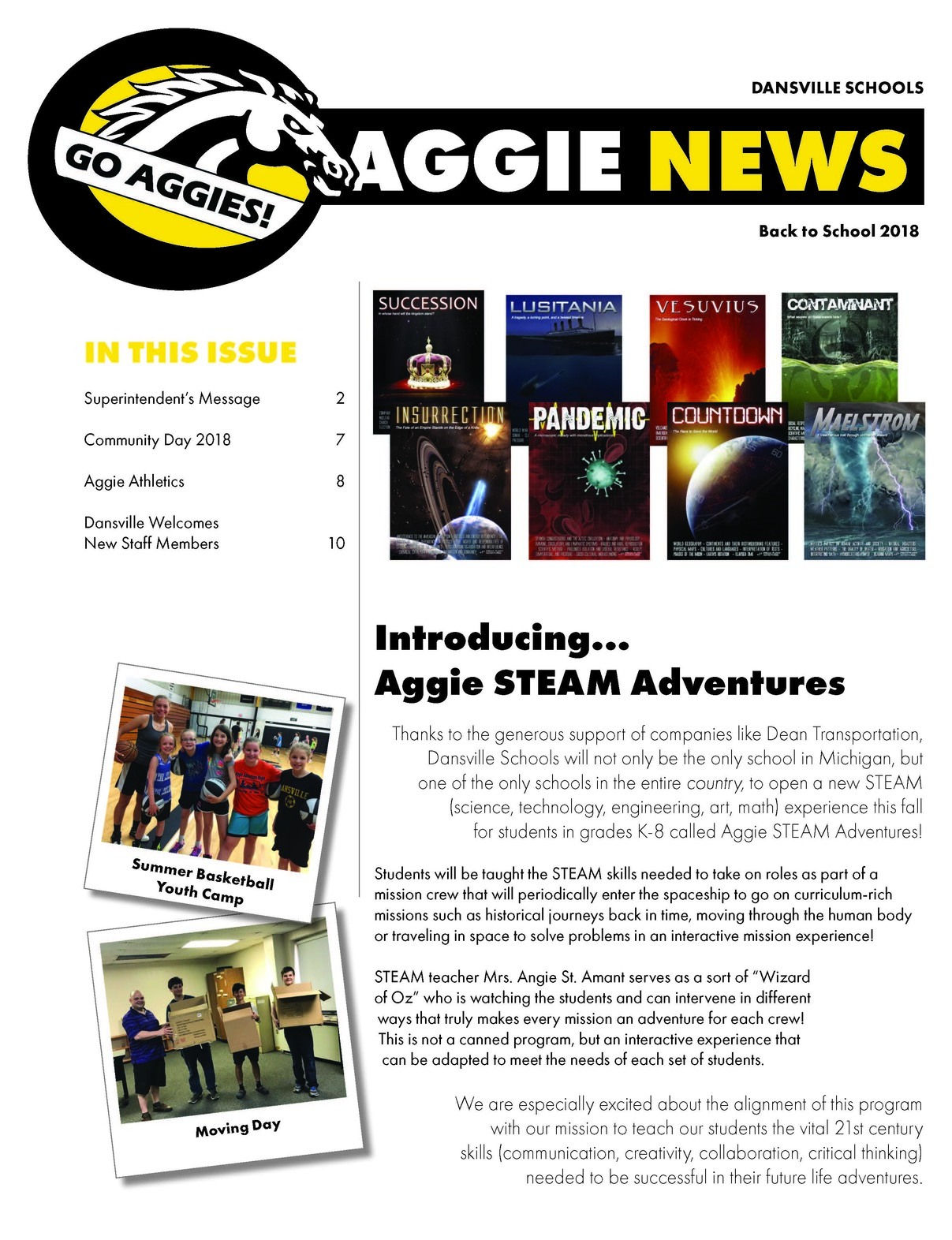 About Dansville
Dansville is a rural community located in beautiful southeastern Michigan, only 22 miles from the state capitol and the campus of Michigan State University.
Our economy is supported primarily by small business, agriculture research and production. The Dansville community is both school and family-centered, offering a high level of support from parents and citizens for the school and its efforts.
The K-12 school system offers the best of small and large school settings, in that each student is known personally by the staff while being exposed to a wide variety of educational opportunities.
Dansville has a strong academic and extracurricular program including AP classes, dual-enrollment opportunities, partnership with the Wilson Talent Center, art education, physical education, vocal and instrumental music, technology, athletics and a large number of other extracurricular clubs and activities.
A safe learning environment, a strong commitment to every student through the district-wide implementation of RtI (Response to Intervention), innovative grading and assessment practices as well as outstanding staff are all reasons the students at Dansville Schools are learning and thriving every day.
Aggie Family
Main Phone: 517-623-6120
Superintendent: ext. 3416
Elementary School: ext. 7226
Middle School: ext. 1104
High School: ext. 1105
Fax: 517-623-6719
Call or Text Our Anonymous Tip Line at 567-694-5182 to report bullying or any suspected fraud.
Severe Weather
In the event of severe weather, Dansville Schools will follow the safety procedures outlined in our Crisis Communication Plan and work with local emergency personnel to ensure the safety of all students and staff.
Announcements regarding the status of the school and school-related activities will be made with the school-wide calling system and via:
WFMK
WHZZ
WILS AM 132
WILX – TV 10
WITL
WJIM
WJXQ
WLMI
WLNS – TV 6
WSYM - FOX47
WQHH, FM 96.5
WQTX (92.1 The Team)
WWDK (Duke FM 94.1)
WXLA AM 1180