Superintendent's Message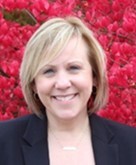 Family. It's a six-letter word that can evoke all kinds of emotions. For some, "family" can bring back feelings of heartache or dysfunction. But for most of us, "family" means love. It means comfort and security. It means you are safe to be yourself. "Family" means you are home.
From the moment I stepped foot into Dansville Schools, I knew there was something special and truly unique about our learning community. I knew from my research that "Aggie Family" was our branding slogan, but little did I know how deeply that philosophy ran.
On April 18, I walked into an office full of signs, cards, and banners welcoming me to the "family." I wandered through the halls and classrooms and common areas where staff members and students of all ages genuinely greeted me with the same sentiment, "Welcome to the Family."
Thank you for welcoming me to the Aggie Family with open arms. It is comforting to know that I am home.
And, if Dansville is not your school home yet, please contact us. We would love to have you as a part of our family. We are small but mighty, and we are on a mission to inspire creativity, confidence, compassion, and hope in all students.