Superintendent's Message
Welcome to Dansville Schools! We are so glad that you have landed on our page. Our district is "Small but Mighty" in every way imaginable. While enrollment is generally around 750 students, we boast best practices in instruction, assessment, and grading – with our work even being cited in the 2022 edition of Ken O'Connor's A Repair Kit for Grading: 15 Fixes for Broken Grades. If you combine that with our low class sizes, you can rest assured that your child is receiving a state of the art, personalized education.
Along with academics, we take great pride in our extracurricular activities. We have a full athletic department with beautiful facilities. In the fall of 2023, our band, the Pride of the Aggies, will have celebrated their 100th anniversary. Many of our high school students earn college credit through advanced placement courses and dual enrollment. Nearly a third of our juniors and seniors attended career and technical education courses at Wilson Talent Center.
Here in Dansville, we call ourselves the Aggie Family, and we hold this value close to our hearts. We know each other, and we know our students by name. We care for the whole individual. If you want your child to be seen and loved, you've come to the right place.
We talk about family, and we talk about that personal touch you can expect at Dansville, so let me tell you a little about myself. I've been an educator for over 20 years. My path in life has taken me through several different states, although I've been a proud Michigander since 2002. I have a bachelor's degree from Southeast Missouri State University, a master's degree from Eastern Michigan University, and a specialist's degree from Central Michigan University. My husband, Jim, and I have raised four boys: Greg, Garrett, Grayson, and Jack. We are also the pet parents of Zeus, Ellie, and Jack the Cat (that's a long story…).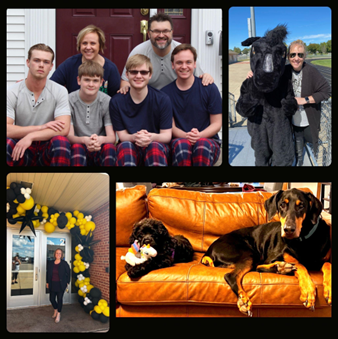 If I can ever be of assistance in any way, please don't hesitate to call: 517-623-6120 ext. 3416.
Go Aggies!