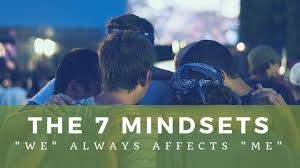 EVERYTHING IS POSSIBLE: Everything is Possible teaches us that we are all capable of living extraordinary lives. We learn that everything in existence was once just an idea, until someone believed it was possible and turned it into a reality. Embracing this fact allows one to envision a wonderful life, expect greatness, and effectively execute the process of making dreams come true.
PASSION FIRST: Passion First tells us that we are each a unique expression of human life, and that our lives should be focused on finding our unique genius and sharing it with the world to the maximum extent possible. You will learn to make your dreams authentic, and of such critical importance that you'll find the fuel to overcome any obstacles you face on the way to achieving them.
WE ARE CONNECTED: We Are Connected helps us understand that everyone who comes into our lives can help us live our dreams. Through this mindset, we learn to constantly explore synergies with others, embrace diversity, and relish the competition that will allow us to maximize our potential with and through others.
100% ACCOUNTABLE: 100% Accountable teaches us that we are not victims of our past, that our futures are not predetermined, and that our lives are what we choose them to be at this moment and each moment forward. With a focus on recognizing fears and excuses, this mindset helps us to break down barriers, freeing our minds and focusing our energy on taking critical steps toward our goals.
ATTITUDE OF GRATITUDE: Attitude of Gratitude teaches us that we build our lives on either positive or negative foundations. Choose the positives, and you are on your way toward extraordinary success. Choose the negatives, and you will likely start on a downward spiral.
LIVE TO GIVE: Live to Give describes how abundance in one's life is a cycle. To receive love, respect, and financial security, one must first learn to give those things. This mindset also teaches that the greatest gift you can ever give is finding and leveraging your unique genius to maximize your positive impact on the world, knowing that good things will be returned to you in kind.
THE TIME IS NOW: The Time is Now teaches that all your power exists in the moment. You cannot change the past and the future has not happened, so the only thing to do is take purposeful action in the present to create the ultimate life of your dreams.