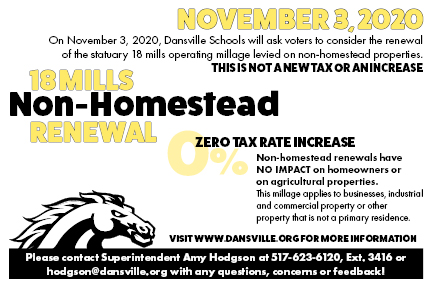 2020 Dansville Schools Operating Millage Renewal
Information Sheet
On November 3, 2020, the community will be asked to consider voting on the renewal of the non-homestead operating millage for Dansville Schools. Every school district is required by law to bring this before their community in order to receive full school funding since 1994. The continuation of this millage on non-homestead properties and businesses accounts for approximately $904,779 of the school district's total general fund. This equates to roughly $1239.42 per student. The proposed renewal is to continue to levy the statutory rate of not to exceed 18 mills, which is required for the school district to receive its full revenue per pupil foundation allowance.
FREQUENTLY ASKED QUESTIONS
What Is Meant by Homestead and Non-Homestead Properties?
When Michigan voters passed Proposal A in 1994, Michigan's property taxes for schools were restructured and reduced. Property was divided into two categories: homestead and non-homestead. A homestead property is your primary residence (the home where you live). Non-homestead properties include land and buildings such as businesses, rental properties and vacation homes that have not been designated as a primary residence. This is a millage that is levied on these non-homestead properties only.
Is This a New Tax?
No. This millage has been in place since 1994 with the passage of Proposal A. Dansville voters last approved a levy for 18 mills on non-homestead property five years ago and the community has approved this levy since its inception. The current millage expires with the 2020 tax levy.
Why Is This Issue On the Ballot Now?
Under Proposal A, renewal of the 18 mills is required periodically by voters in order for the district to continue collecting this millage. Because our authorization expires in 2020, the district must seek approval to continue collecting these funds, which help pay for Dansville's educational programs.
How Will This Affect Homeowners?
No matter what, this millage renewal will not change the taxes on your primary residence. It is a renewal on non-homestead properties only, such as business properties and second homes.
How Much of Our Local School Budget Does This Non-Homestead Millage Fund?
The current assessment of 18 mills that voters are being asked to approve is used to fund a significant part of the school district's operating budget. Approximately $904,779 of the annual budget comes from the 18-mill non-homestead tax assessment. This equates to approximately $1239.42 per student. The rest of our school funding comes directly from the state via the School Aid Fund.
What Would Happen If This Millage Does Not Pass?
If the request for the renewal of the 18 mills non-homestead were not approved, Dansville Schools would lose about $904,779 of funding for each school year. Voter approval is the only way the district can receive these dollars. These funds pay for supplies, textbooks, technology, staffing and our regular operating expenses.
When Is the Election?
Tuesday, November 3, 2020

Polls will be open from 7 a.m. to 8 p.m.

The last day to register to vote by mail is October 19, 2020

The last day to register in person is the election day November 3, 2020
Where Do I Vote?
Voting will take place at each township's precinct for this election.
Where Can I Get Answers to Other Questions I Have About The 18 Mills Operating Millage Election?
For more information, please call or email Superintendent Amy Hodgson at 517-623-6120, Ext. 3416 or hodgson@dansville.org
Ballot Language
Shall the currently authorized millage rate limitation of 19.71 mills ($19.71 on each $1,000 of taxable valuation) on the amount of taxes which may be assessed against all property, except principal residence and other property exempted by law, in Dansville Schools, Ingham County, Michigan, be renewed for a period of seven years, 2021 to 2027, inclusive, to provide funds for operating purposes; the estimate of the revenue the school district will collect if the millage is approved and 18 mills are levied in 2021 is approximately $904,779 (this is a renewal of millage that will expire with the 2020 tax levy)?
If this is an 18.00 mill levy, why does the ballot language reference 19.71 mills?
The ballot language is written this way to ensure the district is able to collect the full 18 mills, but not more than 18 mills. The additional 1.71 mills is listed on the ballot because it is the current override that would be available to restore any potential Headlee Rollbacks, in the event that existing property taxable values grew at a faster rate than inflation. If this language was not included on the ballot and there was a rollback, the state continues to assume the district is collecting the full amount and those funds are not replaced.